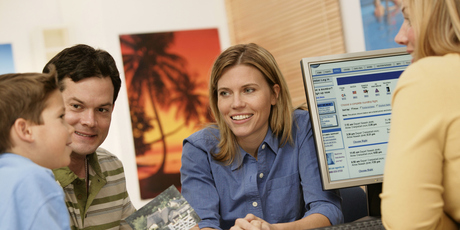 The internet has diminished some industries significantly – including travel agents.

Photo / Thinkstock
If you're a travel agent or an accountant, you could be facing "extinction" by 2017.
Car manufacturers, retail and IT workers may also need to start thinking about a new career path as consumers increasingly turn to the internet for services and employers outsource for cheaper labour.
The Balance Recruitment agency has compiled a list of the top five jobs they believe will disappear in the next five years.
Managing director Greg Pankhurst said overseas companies were becoming more trusted by local businesses.
"Many jobs will become obsolete due to technological advances, while others will simply move offshore to Asia," he said. "Offshoring is not a new phenomenon, but people are getting a lot better at it and higher-skilled jobs are starting to go offshore. It used to be the very basic roles.
"It is vital people understand these changes and attempt to reskill so they don't end up becoming superfluous."
Read more here: http://www.nzherald.co.nz/business/news/article.cfm?c_id=3&objectid=10826527
~~~~~~~~~~~~~~~~~~~~~~~~~~~~~~~~~~~~~~~~~~~~~~~~~~~~~~~~~~~~~~
Needing help for your home schooling journey:
https://hef.org.nz/2011/needing-help-for-your-home-schooling-journey-2/
And
Here are a couple of links to get you started home schooling:
https://hef.org.nz/getting-started-2/
and
https://hef.org.nz/exemptions/
This link is motivational:
https://hef.org.nz/2012/home-schooling-what-is-it-all-about/