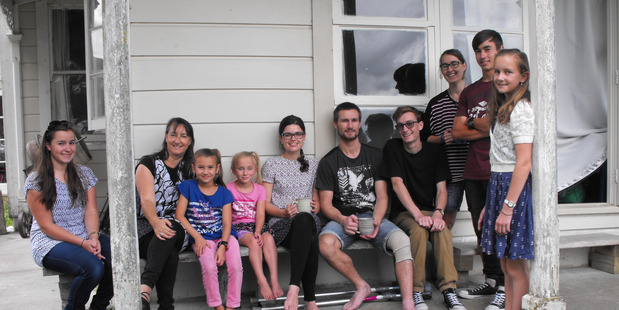 In a long dining room the windows and french doors open onto farm land and an orchard where labrador escapee Jack is snuffling against the fence.
Pigs shuffle round a paddock and sheep wander under the trees; the Arthur family's day is underway.
Marie and Blair Arthur's nine children range from 25 to 6 years-old, they all live at home, are all home schooled and are passionate about their home, their parents and each other.
Three go off to work, so that leaves six at home on the farm in Marton, situated in the Manawatu-Wanganui region.
Described in the Marton community as a "musical prodigy", eldest Caitlin is a violin and piano tutor and also teaches at Nga Tawa Diocesan School. She also instructs her younger brothers and sisters in music.
Read a lot more about the Arthur family here: https://www.google.com/url?hl=en&q=http://nchenz.us3.list-manage2.com/track/click?u%3Db416e2b4275353dcb9a29c8c0%26id%3D5503ac4d06%26e%3Dc730ed307e&source=gmail&ust=1492046746561000&usg=AFQjCNFJVjV3indVuADqrFrfW-aNgqorNQ
~~~~~~~~~~~~~~~~~~~~~~~~~~~~~~~~~~~~~~~~~~~~~~~
Needing help for your home schooling journey:
https://hef.org.nz/2011/needing-help-for-your-home-schooling-journey-2/
And
Here are a couple of links to get you started home schooling:
Information on getting started: https://hef.org.nz/getting-started-2/
and
Information on getting an exemption: https://hef.org.nz/exemptions/
This link is motivational:https://hef.org.nz/2012/home-schooling-what-is-it-all-about/
Exemption Form online:https://hef.org.nz/2012/home-schooling-exemption-form-now-online/
Coming Events:https://hef.org.nz/2013/some-coming-events-for-home-education-during-2013-2/
Beneficiaries: http://hef.org.nz/2013/where-to-for-beneficiary-families-now-that-the-social-security-benefit-categories-and-work-focus-amendment-bill-has-passed-its-third-reading